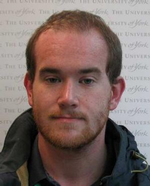 Edward Powley's homepage
I am a research fellow in the Academy for Innovation and Research at Falmouth University. My research is on computational creativity and artificial intelligence for games. I work with Simon Colton, in his role as ERA Chair in Digital Games Technology. I will also be teaching on the BSc Computing for Games course.
In my copious spare time, I am an independent game developer and AI consultant.
From 2010 to 2013 I was a postdoctoral research associate in the Department of Computer Science and the York Centre for Complex Systems Analysis at the University of York. My research was on artificial intelligence for games, specifically Monte Carlo Tree Search for games with uncertainty and hidden information. I worked with Peter Cowling and Daniel Whitehouse on the EPSRC-funded "UCT for Games and Beyond" project.
Publications
My Google Scholar profile. My ResearchGate profile.
Peer-reviewed journal publications are highlighted.
Computational creativity (click to show/hide)
Monte Carlo Tree Search (click to show/hide)
Cellular automata (click to show/hide)
Edward J. Powley.
Global properties of cellular automata.
PhD thesis, Department of Computer Science, University of York, 2009.
PDF
Edward J. Powley & Susan Stepney.
Counting preimages of homogeneous configurations in 1-dimensional cellular automata.
Journal of Cellular Automata, 5(4-5):353-381, 2010.
PDF
Edward J. Powley.
Quad prize submission: Simulating elementary CAs with Trid CAs.
Journal of Cellular Automata, 5(4-5):415-417, 2010.
PDF
Edward J. Powley & Susan Stepney.
Automorphisms of transition graphs for linear cellular automata.
Journal of Cellular Automata, 4(4):293-310, 2009.
PDF
Edward J. Powley & Susan Stepney.
Automorphisms of transition graphs for elementary cellular automata.
Journal of Cellular Automata, 4(2):125-136, 2009.
PDF
Edward J. Powley & Susan Stepney.
Automorphisms of transition graphs for a linear cellular automaton.
Proceedings of Automata 2008: Theory and Applications of Cellular Automata, 55-68, 2008.
PDF
Software
Contact